Schwaba Law Firm is investigating and filing claims related to metal hip implants. Metal on Metal (MoM) hip implants cause metallosis when the metal grinds itself down in the hip, causing the release of molecules of cobalt, chrome and/or titanium into the bloodstream. When these chemicals, cobalt, chrome, and/or titanium are released into the bloodstream, they cause potentially severe and deadly complications including cancer, blindness, heart disease, hearing loss, and other traumatic injuries. Metal on Metal Hip cases have been brought and litigated against Depuy – a brand of Johnson & Johnson, Smith & Nephew and Zimmer – Biomet.
Schwaba Law Firm also filed the first lawsuit involving a Metal on Polyethylene (MoP) hip implant. The matter involves a cobalt/chrome femoral head paired with an XLPE acetabular cup. The metal on polyethylene implant was used to replace a prior ceramic hip implant that failed. Schwaba Law Firm alleged that when remaining ceramic particles from the ceramic hip implant mixed with the metal on XLPE articulation, cobalt/chrome from the implanted Smith & Nephew femoral head was released into the bloodstream. The case alleges Smith & Nephew knew or should have known of this dangerous articulation after a ceramic failure and advised physicians to avoid the pairing. A Canadian recall of the Smith & Nephew pairing was issued on this basis:
Smith & Nephew, PLC is a British medical equipment manufacturing company with a headquarters located in Watford, England. However, while located overseas, the corporation frequently does business with the many of the United States through its subsidiaries Smith & Nephew Inc, located in Memphis, TN, and Smith & Nephew LTD, which deals with the evaluation of the quality of the medical equipment produced. The corporation's group revenue in 2019 was over 5 billion dollars.
Zimmer Biomet is a medical device manufacturing company headquartered in Warsaw, IN. Zimmer Biomet has an annual revenue of about 7.8 billion. Unlike Smith & Nephew, in 2018, the company sent out a recall for their metal/polymer hip replacement system numbered 163669. The FDA recall for the hip replacement systems: LEARN MORE
Depuy Synthes Companies is a subsidiary of Johnson & Johnson, operating within the Johnson & Johnson Medical Devices Group. Depuy is headquartered in Warsaw, IN and has an annual revenue of 2.4 billion. Depuy issued a recall in 2010 for their ASR Metal on Metal Hip replacement systems. All three types of hip replacement systems (Smith & Nephew, Zimmer Biomet, and Depuy) share similar risks for serious medical issues. LEARN MORE
All three of these companies were responsible for the overall creation and distribution for the Modular Femoral Head component along with its market withdrawal in the United States. Smith & Nephew manufactures what is called a Modular Hip Replacement System. In this system, different components, whether they be metal, polyethylene, or ceramic, can be mixed and matched based on the circumstances of the surgery. Smith & Nephew heavily marketed the metal on metal option, ignoring the historical evidence of side effects included in the metal on metal hip replacement, dating back to the 1960s. The metal particles are far more prominent in the metal on metal system than they are in other components. However, due to failure in ceramic components of the systems, the metal on polyethylene implants can also result in the release of metal ions. LEARN MORE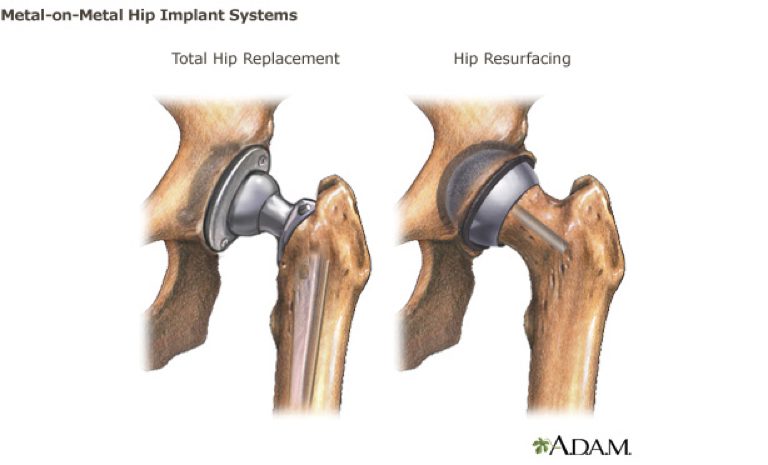 These metal ions released in the body are cytotoxic. When released into the bloodstream, these ions can inflict catastrophic damage on the body. Cobalt toxicity from the replacement can result in cancer, loss of vision, loss of hearing, cognitive decline, cardiomyopathy, weakness, fatigue, among other physical impairments.
The Schwaba Law Firm can assist claimants who have had faulty Hip Replacement Systems and who have developed serious health problems from the replacements. Those who have been diagnosed with types of cancer, other physical deterioration, who have had replacement and/or revision surgery, or those who have had surgery and fear they may develop cancer, may have a claim. The claims may include claims for negligence and negligent failure to warn, negligence per se, breach of express and implied warranty, among others.
There is no cost to you in contacting or discussing your claim with the Schwaba Law Firm. In the event you decide to retain Schwaba Law Firm as your counsel, the firm will only be paid in the event they are able to obtain a recovery on your behalf. In no event will you be asked to pay anything out-of-pocket. If you have concerns regarding your Smith and Nephew Hip Replacement, contact the Schwaba Law Firm at the numbers above.